Vote for Hudson LaBorde (currently in second place) former Lafayette High Baseball Player currently playing for The Northwestern State in Nachitoches, LA. Hudson is currently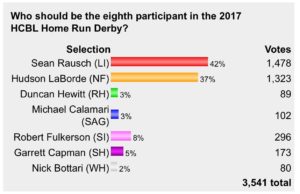 playing Summer ball in The Hamptons and was nominated for the Homerun Derby and needs your vote. The player with the largest "Fan Base" wins the chance to show off his skills in the derby!!! Please visit the Hamptons Baseball Collegiate League (link below)  It would be great to see a local win as the Eighth Participant in the 2017 HCBL Home Run Derby.
He's a Lafayette Native, the Grandson of Donny Landry, II and Great Grandson of Don Landry, Founder of DON'S SeafoodVotes are Accepted Daily Thru July 7th. One Vote Per Day, Per Device. Vote from All – iPad, Phone, Desktop, Laptop…
Cast Your Vote Here: https://vote.pollcode.com/51342932
View the Current Poll Result.
Please Share and Thanks for Your Support!