This week long camp out started Monday October 23, and rolls all the way till Noon on the 27th. From there the "Camp" turns into Festival mode; setting
up at Vermilionville for live entertainment and a cook off over the weekend.
After witnessing a group of very eclectic music lovers from all walks of life in one place, enjoying each other's company and music; I have a newfound appreciation for what it means to be "Cajun
After arriving Tuesday night after the sun went down, we found our way to the Barn Dance. Along the way in the brisk air, the sweet sounds of various styles of music could be heard from the many impromptu jam sessions. Upon arriving at the Barn Dance where an incredible swing band was playing, the good times began to roll. One showman after another graced the stage and no one disappointed. Artist from across the country jumped right up to share their gift. Later that night diversity struck once again. Passing by the laundry room was a sound that was hard to ignore. As we got closer, we noticed a good old fashioned Square Dance. It was like stepping back in time. To paint the picture; when we opened the door was a young man standing on top of a washing machine accompanied by a 5 piece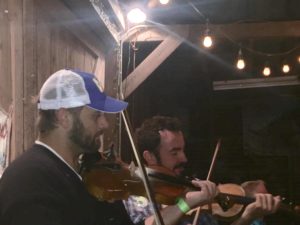 band. The sounds of Banjo, Twin Fiddles, Upright Bass, and Acoustic Guitar were very easy on the ears. This room was filled with joy.
During the day, We traveled the campground following the sound of music. Witnessing classes on various traditional instruments and music history. Truly a multi generational environment we saw folks from 8 all the way up to 89. Some learning a new instrument for the first time, and some carrying on the traditions that were passed on them. Everywhere you looked there was example after example of people loving people.
We truly enjoyed the sights and sounds. I would strongly recommend it to anyone who loves music and the outdoors. The staff at Lakeview Park was world class. It's not too late to get on on the action, go check them out at Vermilionville all weekend. For more details checkout: https://www.blackpotfestival.com/
For Radio Louisiana: Jordan LaSalle